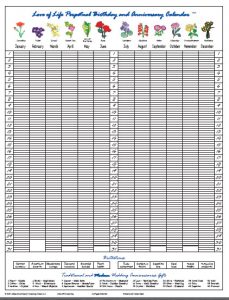 Our gift to our new clients.  You've been looking for an easier way to remember and to commemorate the important  dates and occassions in the life of family or of your friendship relationships.
Here it is!   Forgetting those milestone dates is over!  Your spending hours re-entering  those occasions into a new calendar — annually & with a chance for errors — is over!
Your "Love of Life Perpetual Birthday & Anniversary Calendar"© will offer you decades of enjoyment, timely colorful reminders, and the warm feelings of connection with those people about whom you care.
Enjoy!  And these calendars make an excellent, unusual,  and affordable gift that those about whom you care will remember and cherish forever!
For more information about how to order yours, click here.