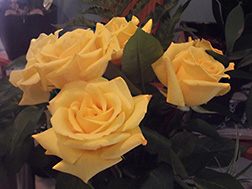 Bienvenida, Angelica!  Angelica Camargo, LCSW, has joined our team in 2021 to provide professional services in our Danbury Office as a "Child, Adolescent, Adult, & Family Therapist".
Angelica was awarded her Masters in Social Work and at Fordham University Graduate School of Social Service, White Plains, NY, where she was a member of the Phi Alpha Theta Honors Society.  She also is very familiar with the Danbury area, having earned her Bachelors of Business Administration in Marketing at Western Connecticut State University in Danbury.
We have been fortunate to have benefitted from this bilingual behavioral health clinician's 12 years and varied experiences as a valued staff member of The Community Health Center, Inc., Waterbury, CT, from January 2009 – July 2021, where she was also a Behavioral Health Project Coordinator.  She provided biopsychosocial evaluations, developed individualized treatment plans based on the patients' goals, worked with high-risk populations, and with clients with issues of alcohol and substance abuse.
This woman of faith provides needed and valuable group counseling for adult women, referrals for children, families and adults in need of mental health and addiction services referred by faith-based organizations and local community churches.
Angelica Camargo, LCSW, is a Licensed Clinical Social Worker in CT [58.011480] and she provides individual, family, and group therapy for children, teenagers, young adults, and adults.  She is a Preferred Provider on most major Behavioral Health Insurance policies and area EAPs and can be reached for referrals or appointments by calling 203 790-1234.