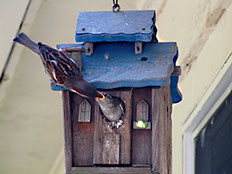 "PUTTING GOD, FAMILY, AND MENTAL HEALTH BACK IN THE HOLIDAYS"
From a presentation, St. Thomas Becket Church Women's Organization
By Herbert Jay Rosenfield, ACSW, LCSW, BCD
The Holiday season is stressful for everybody!
For some folks, the stress is from the past; for others, current issues weigh on them. For many, disappointments and/or losses, past and present, are raised by the Holidays. For others, economics plays a large role; so many wrestle with health issues for themselves or for loved ones. For everybody, time is too short and the tasks many!
Here are some suggestions that participants have
offered to you to try:
Make a list of things for which you are thankful. Read your list each morning or evening and give thanks for them
Set realistic expectations for each holiday.
Try to control your time better than last year: Slow down. Pace yourself. Begin your preparations by making a list of what you need/want to do and how you can do them.
Engage family members to share the opportunity and responsibility to prepare for and make your holiday celebrations successful. They benefit, too.
Eat and drink moderately during the holiday season. Pay attention to your special diet needs.
Maintain important elements of your normal patterns. Sleep; eating times' exercise; social contacts; work rhythms; etc.
When feeling 'blue', make healthy choices that best help you to feel more in control: music; sing a song; call a friend; take a nap; avoid alcohol, a depressant; take a walk; count your blessings; help somebody else; think positive thoughts.
© A&FCC 1983, 2010
Social Groupwork Works!!!
Social Groupwork Works!!!
A Therapy Group is one of the most effective modes of therapy for many people and for many different diagnoses. A&FCC staff members are currently groupworking the following Groups:
"Women's Support Group"
"Teen Girls' Group"
We are ready to offer these groups, as soon as we develop an adequate membership:
"Children of Divorce"
"Talented & Gifted Group"
"Elementary School Socialization Groups"
"Early Abstinence Group"
"Grief Support Group"
"Parents of ADHD Kids"
If you, a family member, or a patient or client would benefit from being in a therapy group, contact our Intake Coordinator, Linda J. Rosenfield, LCSW, at 203 271-1234.
News & Programs - page 2 of 3
Herbert Jay Rosenfield, ACSW, LCSW, BCD, Director / Licensed Clinical Social Worker
"Helping You Solve Life's Problems!"TM since 1980

ADOLESCENT & FAMILY COUNSELING CENTER
Copyright © 2016, Adolescent & Family Counseling Center , LLC
Web Design by TBR Web Designs | Last Modified November 21, 2016
All photography is the original work of Herbert Jay Rosenfield and cannot be copied or reproduced without permission.
The Adolescent & Family Counseling Center offers therapeutic care and other services including health, mental health and educational services, through individual, adolescents, couples, family and group psychotherapy, by performing assessments and evaluations, and by offering presentations and workshops in psychotherapy, educational assessment, substance abuse, addictions, stress, grief, children, divorce, sexual depression, anxiety, attention deficit, hyperactivity, ADHD, EAP, parenting, marriage relationships, private practice, insurance, panels. Our staff consists of family counselors, psychotherapists, individual and marriage counseling, child counseling, LCSW, PsyD, LMFT, LPC, social worker, psychologist, psychiatrist, MD, MSW in the Cheshire, Meriden, Wallingford, Southington, Danbury and other areas.