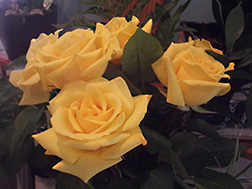 A Licensed Professional Counselor (#000169), Lynn M. Krieg, MS, LPC, has begun here in 2002 as our Psychotherapist and Medical Counselor.
Krieg is a long-term Cheshire resident and suntil her retirement in 2014, she was employed full-time as a Psychologist at Gaylord Hospital in Wallingford.
A recipient of her MS in Psychology degree from Southern Connecticut State University, she is providing psychotherapy and training workshops here at the A&FCC.
Herbert Jay Rosenfield, ACSW, LCSW, BCD, Director / Licensed Clinical Social Worker
"Helping You Solve Life's Problems!"TM since 1980

ADOLESCENT & FAMILY COUNSELING CENTER
Copyright © 2016, Adolescent & Family Counseling Center , LLC
Web Design by TBR Web Designs | Last Modified November 21, 2016
All photography is the original work of Herbert Jay Rosenfield and cannot be copied or reproduced without permission.
The Adolescent & Family Counseling Center offers therapeutic care and other services including health, mental health and educational services, through individual, adolescents, couples, family and group psychotherapy, by performing assessments and evaluations, and by offering presentations and workshops in psychotherapy, educational assessment, substance abuse, addictions, stress, grief, children, divorce, sexual depression, anxiety, attention deficit, hyperactivity, ADHD, EAP, parenting, marriage relationships, private practice, insurance, panels. Our staff consists of family counselors, psychotherapists, individual and marriage counseling, child counseling, LCSW, PsyD, LMFT, LPC, social worker, psychologist, psychiatrist, MD, MSW in the Cheshire, Meriden, Wallingford, Southington, Danbury and other areas.